An exterior renovation project in Minneapolis recently earned a 2015 Contractor of the Year (CotY) award from the National Association of Remodeling Industry – Minnesota Chapter. The CotY recognizes excellence in remodeling projects.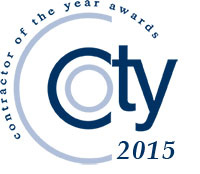 Led by AMEK owner Paul Schmidt and field manager Jim Hansel CRPM, the project began with the challenge of doing extensive remediation work before beginning the exterior makeover. Due to the improper installation of a second story in the 1980s, water was trapped inside the walls which caused large-scale rot and mold. Once the removal and repair work was done, the transformation could begin to create a modern appearance with an accent of warmth.
More pictures & information here.