Field Managers and Carpenters Embody Core Values
At AMEK, we love getting referrals from past clients who appreciate our thoughtful process and talented people. When we survey our clients after their project is complete, many times they mention our field team.  
"The biggest benefit is how they treat our clients," according to AMEK's Production Manager, Brad Krueger. "Our clients feel it by how our field managers and carpenters talk to them and how they take care of their home."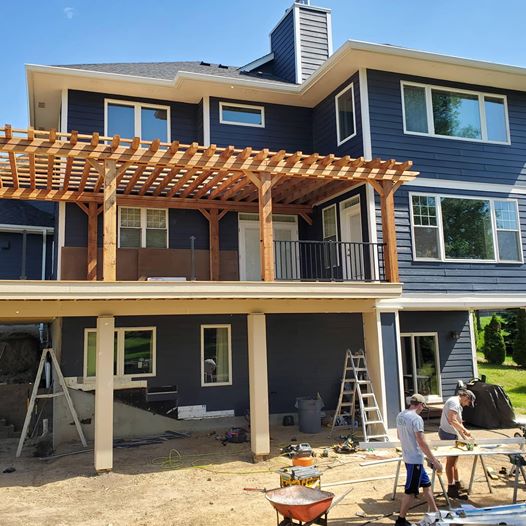 Hiring Goes Beyond Carpentry
AMEK CEO and owner Andrew Schmidt who is involved in the hiring process with Brad agrees. While we do use subcontractors for specialty trades, AMEK also appreciates having its own carpenters on the job. We are very selective in our hiring process because we are looking for employees who reflect our core values in addition to their interest in construction.   
"Our carpenters along with the rest of our design team reflect 100% of our AMEK company values of responsibility, craftsmanship, integrity, quality, and sustainability," noted Andrew. "We look for people to be in our company that have the right values and then train them with additional technical skills because it's more difficult to train someone in values."
Added Control In Scheduling and Finished Product
Brad has fulfilled many roles in his construction career as a carpenter and field manager plus doing his own remodeling. This hands-on experience helps guide our field crew to move through a wide range of projects from demolition to framing to final touches. Brad has full confidence in AMEK's field team, some with up to 15 years in the construction industry. 
"Our carpenters and field managers are here for a career, not just a paycheck. They are 100% bought into our company and how we operate," Brad said. "We are able to plan and schedule better because our carpenters understand the AMEK process. There's no cutting corners." 
Andrew is proud of how his field crew works together using their construction talents and attention to detail. Our award-winning projects earn distinction for their exceptional design and craftsmanship.  AMEK's goal is always to customize spaces uniquely to the homeowners' lifestyles, so they can enjoy their home even more.
Homeowners Seek Great Experience
"The building process is a big part of that. Our carpentry team aims to achieve quality and to make our clients feel special and have a great experience," Andrew said. "It's not the cheapest way to do a project, but it brings the best long-term homeowner satisfaction."
Want to learn more about process and field team, let's start a conversation!